The Ice Universethat is OnLeaks and the SamMobile both were informed: the Galaxy S23 family will be unveiled on February 1st, which is almost ready for launch, and almost everything is known about the specifications, but due to the right timing, we still have to wait until the beginning of 2023 for it to be on the shelves. Many people breathed a sigh of relief about the semi-official announcement from Qualcomm that every 2023 Samsung flagship will use a Snapdragon chip, and the fact that even though the 8 Gen 2 has been introduced, the new top-of-the-line Exynos hasn't and supposedly won't. Instead, the rumors are about Snapdragon 8 Gen 2 with a higher clock rate, but it is not clear whether the version intended for Samsung will receive a distinguishing mark, or whether it will be made on TSMC's seemingly more efficient 4 nm node, or whether this version will be made by Koreans.
Snapdragon 8 Gen 2 Vivo and Xiaomi results in Geekbench 5 (source: Ice Universe / Geekbench) [+]
However, Ice Universe is concerned about the processor performance of the Galaxy S23s after unofficial rounds run on Geekbench. Samsung phones can be identified by their code: az SM-911 the basic model, that is SM-916 the S23+, that is SM-918 and it could be the S23 Ultra. The already presented Snapdragon 8 Gen 2 Chinese mobiles respectively achieve a single-threaded score of slightly below 1500 points and a multi-threaded score of over 5100 points in Geekbench 5, one Xiaomi 13, for example, hammered together 1505/5266 units.
[article_mb_code]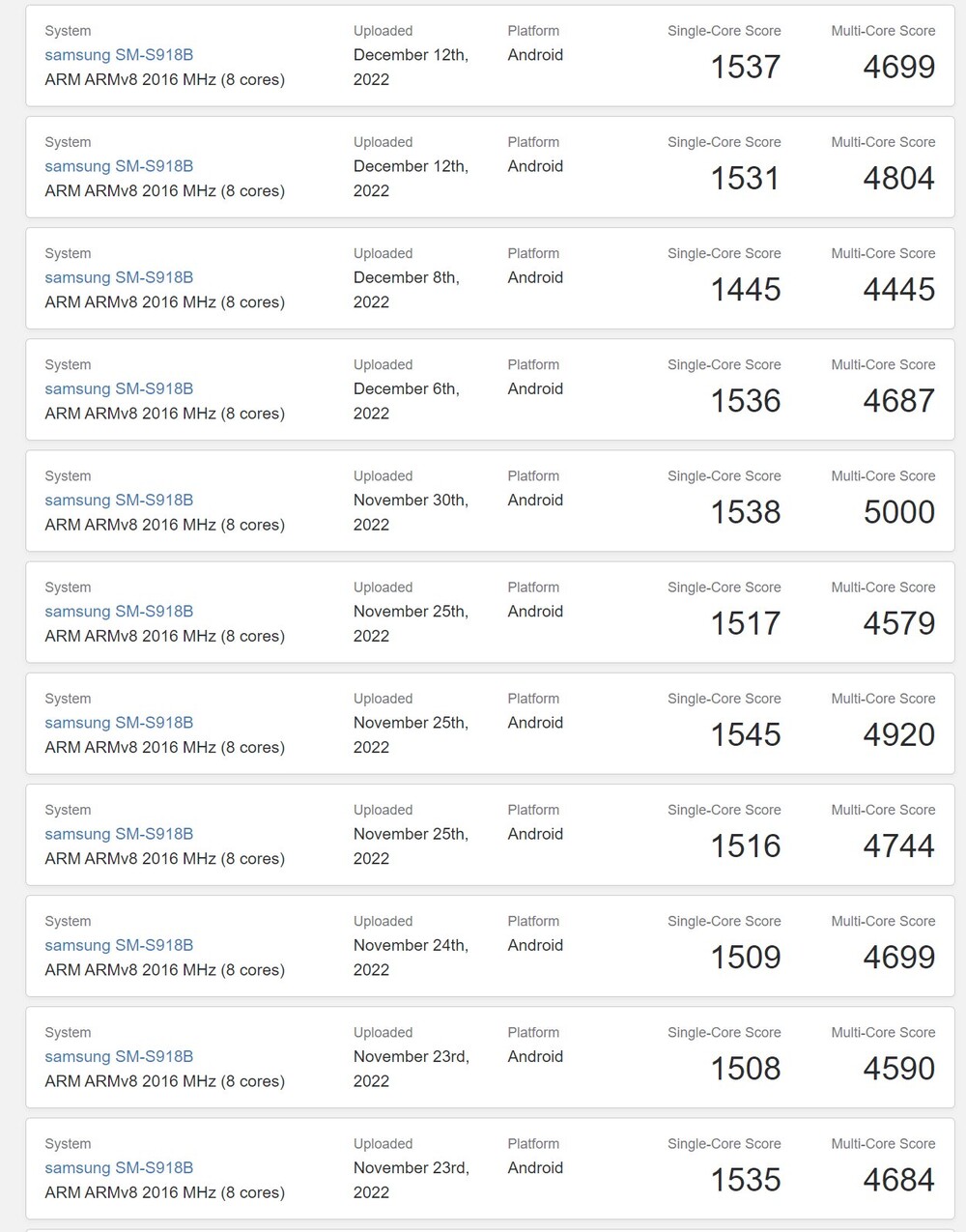 Galaxy S23 Ultra results in Geekbench 5 (source: Ice Universe / Geekbench) [+]
Among dozens of online Galaxy S23 scores, only one Ultra test reached around 5,000 points in a multi-threaded test, most results are between 4,500 and 4,800 points, and sometimes one even drops below that. This alone does not say much, and there is no need to draw far-reaching conclusions, since there is still plenty of time to optimize the devices. However, it is also a fact that multi-threaded tests make the iron sweat the most, and after the bad hardware experiences of 2022, the source page is worried that the extra performance provided on paper with the overclocked Snapdragon 8 Gen 2 may backfire in practice.
[article_mb_code]
[article_mb_code]

Galaxy S23 results in Geekbench 5 (source:
Ice Universe / Geekbench
) [+]
On the other hand, it is already a strong speculation from Ice Universe that Samsung reduced the heat dissipation surface to save money, which would be a serious self-goal, and based on what has been said so far, the size of the S23s will not change, so we wouldn't bet on it. At the same time, it is quite obvious that it will be a critically important issue after this year's fiasco of the Exynos 2200 and the Galaxy S22s that come onto the market with a stuttering interface, so that the continuation should focus on balanced and persistent performance at all costs, instead of some extra score, and this is not necessary to overclock the clocks. Of course, it is also true that with One UI 5.0, Samsung has finally put the performance together perfectly, so another stumble would be surprising – instead of jumping to conclusions, it is worth waiting patiently for the premiere and everyday performance of the S23s.