Announced mid-December, OPPO Find N is the first smartphone folding developed by a Chinese manufacturer. A late arrival in a market where Samsung is king, but which precisely allows it not to reproduce the youthful mistakes of the competition.
Several Anglo-Saxon media have had the chance to take Find N in hand, and deliver their enthusiastic impressions in articles. We will have OPPO Find N review here.
A compact folding folder that is pleasant to handle
After testing the Samsung Galaxy Fold, Galaxy Z Fold 2, and Galaxy Z Fold 3, an inherent flaw in this type of device is clear to us: they are hardly ever pleasant to use closed. The fault of a form factor is very narrow, which requires great precision from the user. A problem that the OPPO Find N proposes to correct if we are to believe XDA Developers.
According to the reporter who received a test copy, OPPO would have found " the perfect compromise between "too big" and "too small" »With its Find N. As a reminder, it offers a 5.5″ screen in 18: 9 format when it is folded up. This makes it an even more compact smartphone than an iPhone 13 Pro!
Related:

Early version of Android 13 "Tiramisu" is leaked. What's new?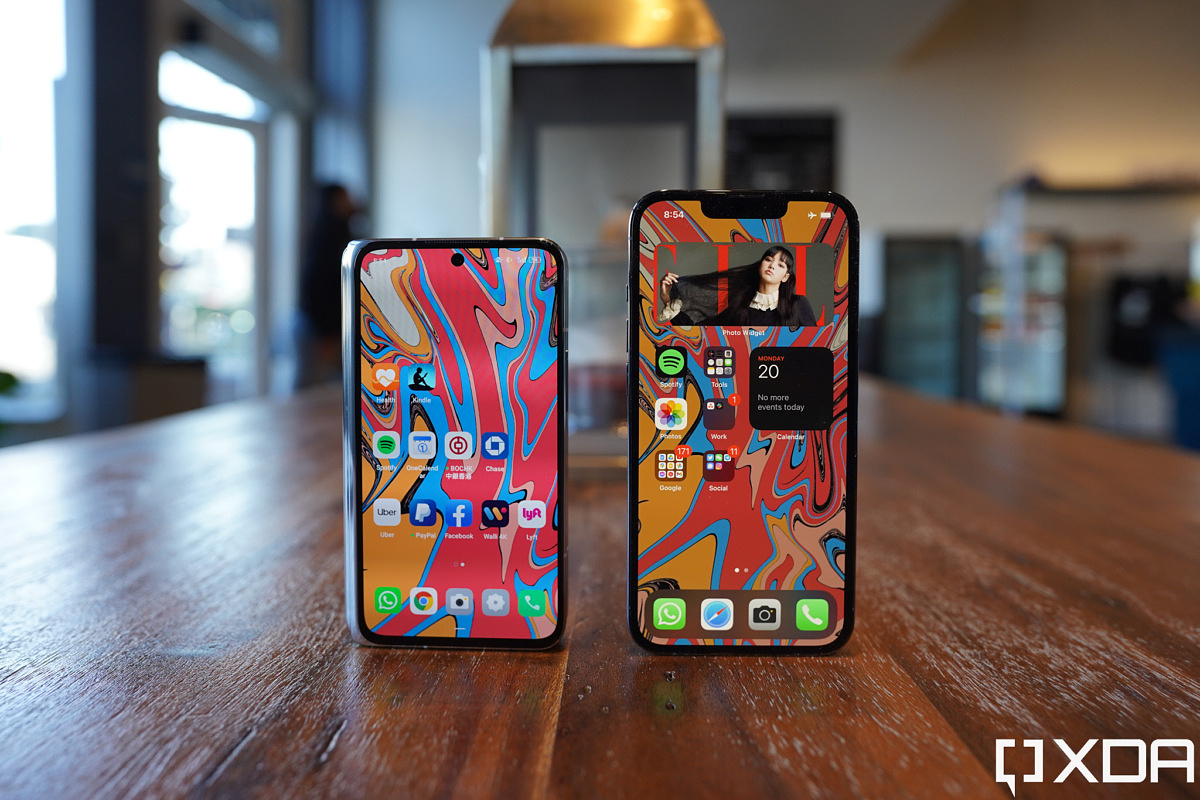 The OPPO Find N and the iPhone 13 Pro © XDA Developers
A format that the journalist admits allows you to type at the same speed, and with the same confidence as on any more conventional smartphone. Unfortunately, this small front screen is capped at a refresh rate of 60 Hz, which causes a certain lag when switching from one screen to another (the interior screen allows 120 Hz).
The exterior screen offers comfort similar to a classic smartphone © XDA Developers
The best screen for a folding smartphone?
Unlike Samsung products, the Find N does not need to be turned to enjoy a landscape format when unfolded. Opening it like a book, we discover a 7.1 "screen (otherwise designed by Samsung), punched in the upper left corner (to house a 32-megapixel camera), which is ready to be used for reading or watching videos. A design choice that particularly appealed to 9to5Google
.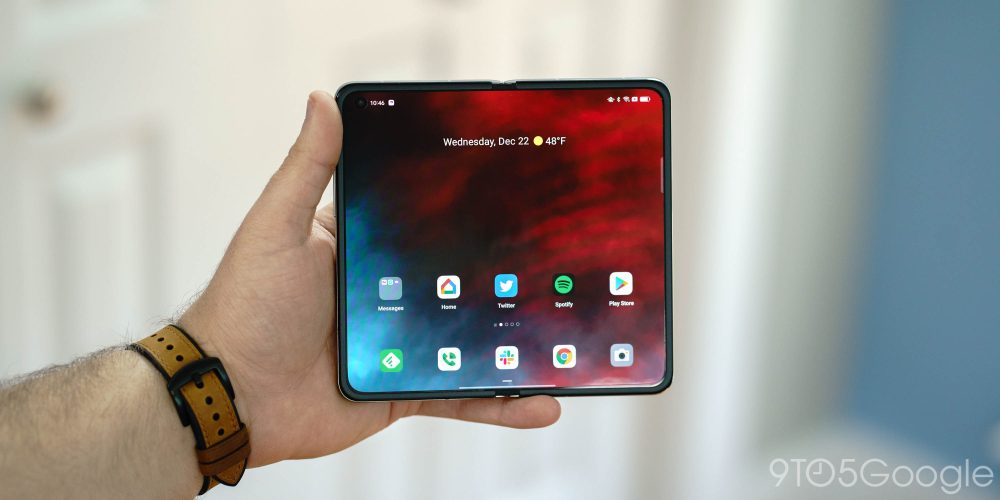 © 9to5Google
Another detail particularly appreciated by the American testers: the hinge of the OPPO Find N is exemplary. Designed differently from its counterparts at Samsung, Xiaomi or Huawei, it would allow the two parts of the screen to fit together almost perfectly; thus avoiding the space that exists on a Galaxy Z Fold, for example. And it also makes all the difference when you unfold the Find N. The reason? In our eyes, it spares the appearance of the characteristic fold of this type of smartphone.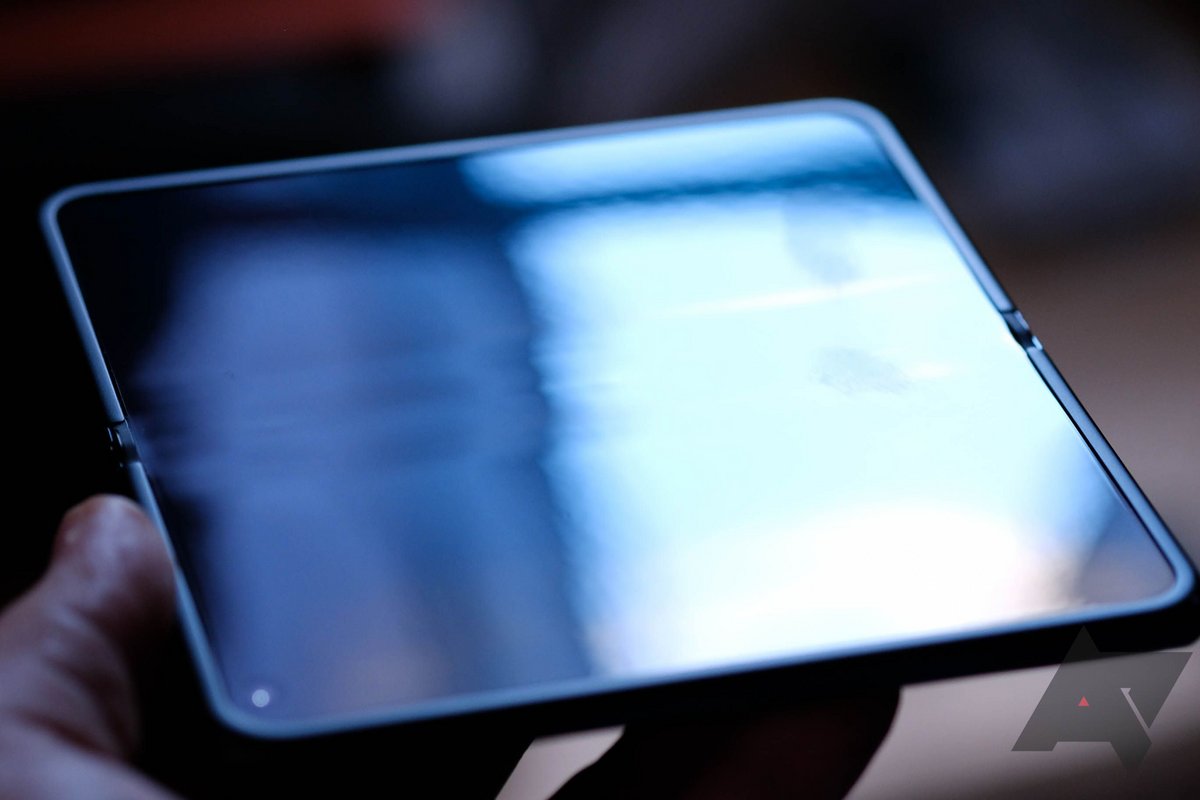 OPPO Find N review © Android Police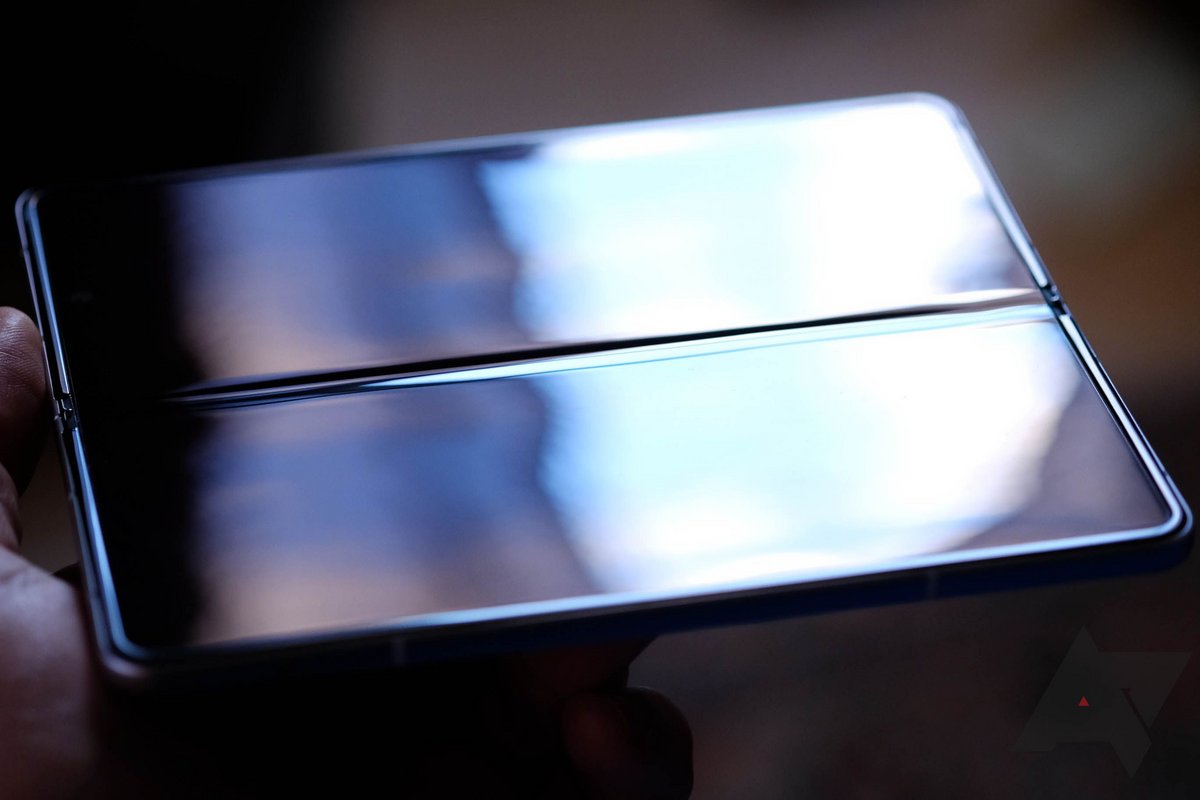 Samsung Galaxy Z Fold 3 screen folds © Android Police
A difference writes Android Central, " simply monumental in everyday use ". In its grip, The verge adds that we can " feel the crease under your finger, but it's hard to see it unless you look at the screen from a great distance and from a certain angle ".
Related:

It's official, a new Motorola Razr 3 will see the light of day
Still, efforts to be made on the software side
We know: the part software is at least as important as the component hardware for our smartphones. And this is all the more true when it comes to folding smartphones. So how is the OPPO Find N doing in this area?
We must start by repeating that this device runs on ColorOS 12, based on Android 11. It does not yet benefit from the new features that Android 12L will bring in the future. That being said, the OPPO Find N offers a very smooth browsing experience (thanks to its Snapdragon 888 and 8 to 12 GB of RAM, in particular), which adapts well to the folding format. The manufacturer has also worked on shortcuts allowing, with the fingertips, to divide its screen in two to display several applications without having to get lost in complex menus.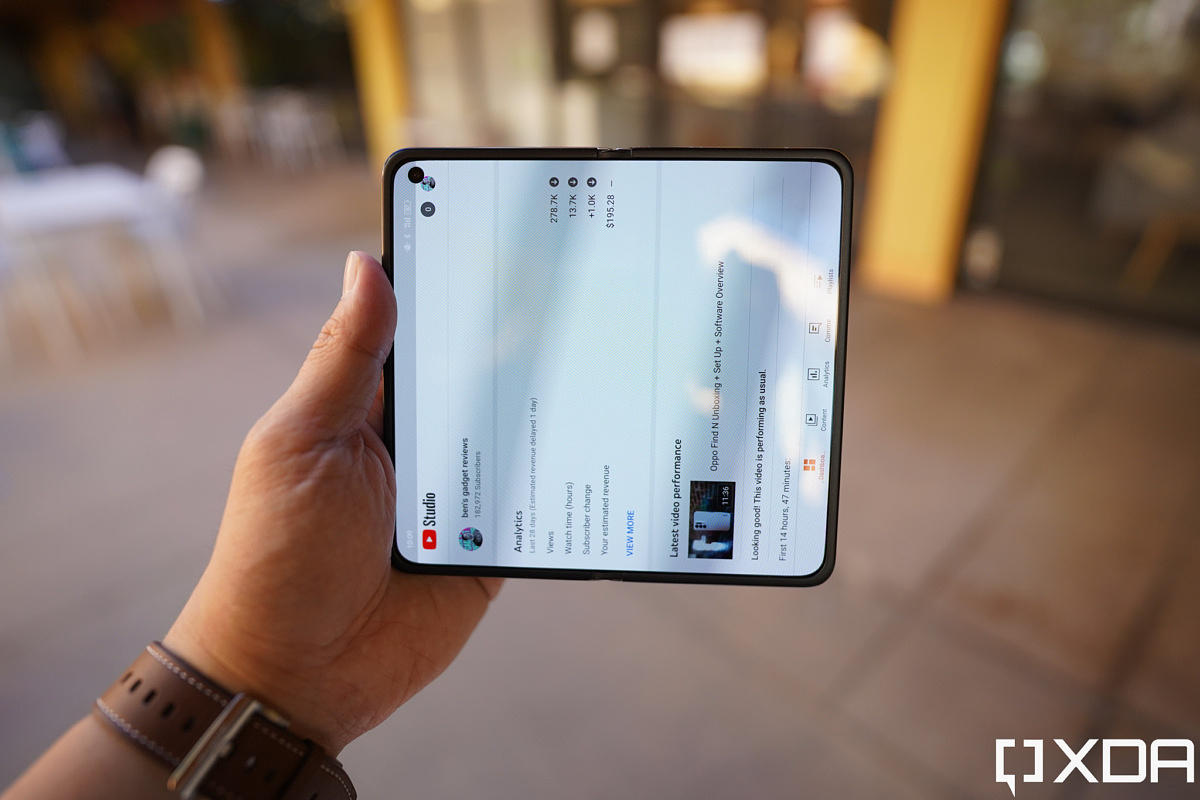 The interface still has some hiccups © XDA Developers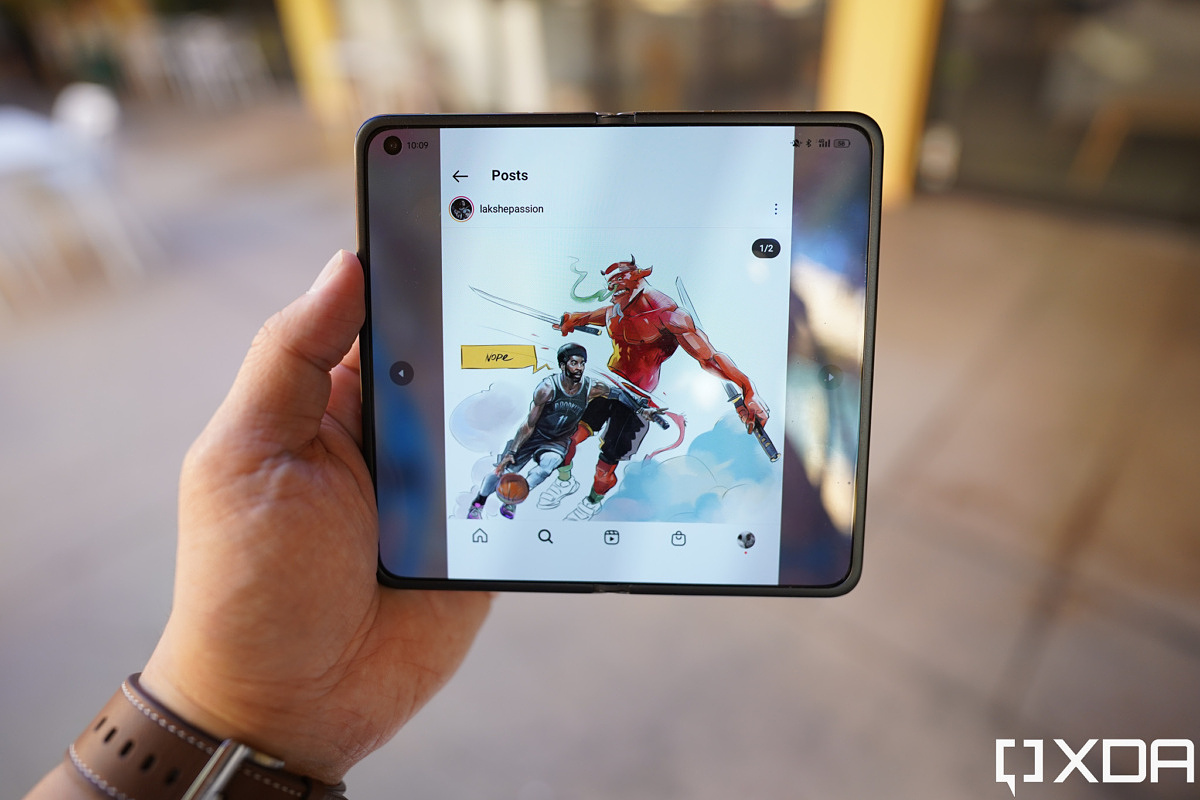 Scaling of some apps is out of order © XDA Developers
Still, and OPPO isn't the first to blame here, Android is still not a very suitable platform for the folding smartphone. In its grip, Android Police
writes that the Find N has " stellar hardware, pulled down by the software part ". The journalist particularly regrets applications that do not adapt correctly to the screen ratio, or quite simply a UI designed primarily for the Chinese market. It should be remembered that this market will be the only one to benefit from Find N.
A smartphone intended for China
Because if most of the grips that we have relayed here are enthusiastic, all or almost all regret that the OPPO Find N is absolutely not intended to leave its territory. OPPO confirmed it to journalists invited to discover the phone: the Find N will not be launched in other markets.
There is still the import solution, but it should be remembered that Google services and applications are natively absent from Chinese smartphones (which only further complicates the user experience for Western testers).
Related:
OPPO Find N price
However, it should be noted that, for a first try, OPPO is visibly doing very, very well. And offers its Find N at an attractive price to say the least (compared to the competition): from 7,699 yuan, or around € 1,068 (HT). The Samsung Galaxy Z Fold 3 is sold in France for € 1,799.
What do you think about the OPPO Find N review ? let us know in the comments.