Entertainment
Lucas de Azevedo, the first drummer of La Vela Puerca, died. The musician had left the group in 2004 due to health problems. Last month his former teammates had put on a show for his benefit
Lucas de Azevedo, first drummer of La Vela Puerca, died
Lucas de Azevedo, the first drummer of the Uruguayan rock band La Vela Puerca, has died. This Thursday at noon his former groupmates confirmed the news through their social networks.
"After a long fight, Lucas de Azevedo left us. We are left with the pain of this loss, but also the memory of his unique smile that awakened his love for music. Deskarado, Of Bugs and Flowers, Against the Light. We listen to you there. nice tour bro", they wrote in an Instagram post along with a photo retro of the group, when it was still part of the formation.
The musician was from the beginning of the band until 2004, when it was opened. She came to record with La Vela the four studio albums that are mentioned in the post. And he played with them again in 2016, as part of the celebrations for the group's 20 years.
The posting of La Vela Puerca to fire Lucas de Azevedo, its first drummer
A few years ago and in dialogue with the Uruguayan newspaper El País, he recalled his time in the group: "When the first record aired, it blew up. I went from being nobody to being the drummer of La Vela and being singled out on the street. No one takes away what I danced. It was absolutely fabulous, the closest I came to living something like what my idols lived, who are the Beatles", De Azevedo said. In that talk, moreover, he said: "I am still a Vela Puerca. I will be all my life."
Lucas had been diagnosed with a brain tumor when he was a boy, a fact that in 2004 took him away from music and moment in which he made the decision to leave the band they lead Sebastian Teysera Y Sebastian Cebreiro to take care of your health. Later, He had to undergo surgery several times.
Last month in Uruguay the group had just done a benefit show to help him, since his situation had worsened. At that moment, his companions thanked the public for having sold out the tickets for the recital on August 2, organized in the Sala del Museo del Carnaval, in Montevideo.
"Those who saw him play know that I am not lying. She painted a smile on her face and everything was possible. We called him 'The Octopus', he seemed to have 8 arms. This photo is from August 1999, when we made La Factoría. Chau Lucas, good trip friend ", his friend and companion fired him on the networks Charles Quijanosaxophonist.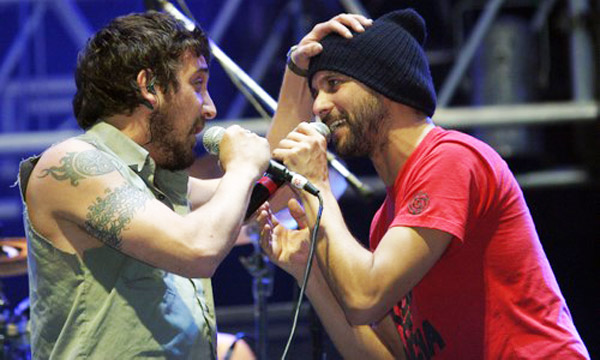 Sebastián Teysera and Sebastián Cebreiro, leaders and singers of La Vela Puerca
For these weeks the band is presenting Discopathic, their eighth studio album that they released in May of this year. "The one with the disc disease. This affects the inter musical record that is made up of a vinyl substance called LP. It is housed between each groove and its function is to provide happiness to the ears", they explained about the meaning of the title of the album.
Thus, they are presenting it on board the tour Discopathicwhich has already taken them to several cities in the region (Bahía Blanca, Mar del Plata, Necochea, Olavarría, La Plata and Tandil) and will soon continue its tour of Santiago de Chile, Córdoba and Rosario.
In September they will be in Paraguay and on October 6 and 7 they will give performances at the Luna Park stadium, in Buenos Aires. Then they will continue through Mexico, Mendoza and will end in their hometown: Montevideo, Uruguay.