The social network dedicated to professionals, LinkedIn, will launch in turn, over the next few weeks, an audio and video event platform.
LinkedIn continues to evolve and aims to increase the time spent by its 800 million users on its site. TechCrunch tells us that the professional social network is preparing to launch a new interactive content platform that will host virtual events, intended for its creators. Initially, probably during the month of January, it will be done in audio events. The video is expected to follow in the spring.
Related:

TikTok takes inspiration from Twitter and tests a Repost option
A free platform, but some events may be chargeable
Concretely, the beta version of this brand new LinkedIn platform (but inspired by Clubhouse, as we explained this weekend), should be available during the month of January. It is not known whether French users will have immediate access to it. This will therefore focus, initially, on audio content.
The beta will be open to creators who already use LinkedIn. Two roles will be possible: that of host of the event, and that of organizer. The events, promising to be interactive, will be live and in all likelihood should be free. Paid access is not excluded, however, in the form of a ticket office that would help event creators (organizers) to monetize them, with the guarantee of ambitious events, with quality themes and speakers.
The idea of ​​LinkedIn is to make its users stay longer on its site, and to avoid pushing them to use third-party services or software. Audio events will be broadcast and recorded directly from the social network – events that may continue even after their broadcast, if some participants want to continue the discussions.
Modular events to optimize interactivity
Taking advantage of Clubhouse's breathlessness, LinkedIn wants to go beyond its Live Video tool, which allows all members and approved pages to stream live video content to a LinkedIn profile, page or event. It has worked well over the past two years, with 1.5 million creators, and that is why the Microsoft subsidiary wants to go further, by developing this virtual platform.

So, the interest of LinkedIn is to offer the means to creators to personalize the events that will take place on the new platform. Depending on their needs, professionals can open certain accesses, and invite spectators, for example, to react. Moderation tools will therefore be made available to creators, who will be able to create real virtual round tables.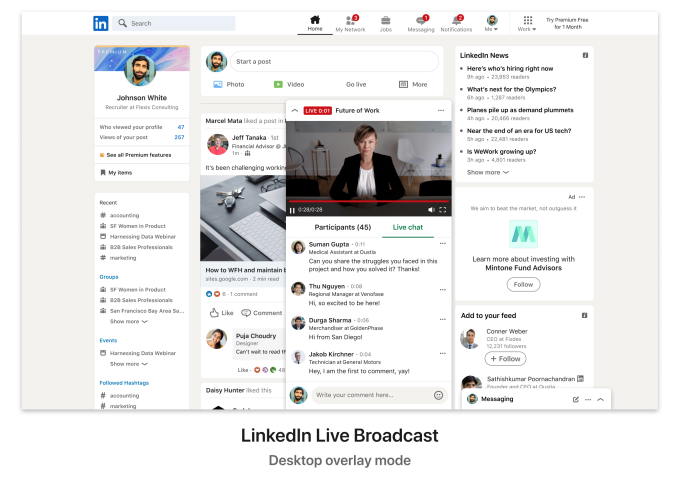 Related:

Telegram update brings reactions to messages, translations, spoilers and more
The most significant events will be highlighted on the platform, in order to extend their reach and visibility to users. LinkedIn obviously relies on companies to play the game, and this is what implies that the "ticketing" system should arrive soon enough after the launch of the platform, perhaps even well before the arrival of the platform. video, which is not yet the top priority.
Source: TechCrunch