On paper, the GeForce RTX 3050 offer is both bloated and heterogeneous. But what will happen to retailers on January 27?
NVIDIA formalized two new desktop graphics cards yesterday, which don't quite box in the same category: the GeForce RTX 3090 Ti and GeForce RTX 3050. Regarding the first, the data remains fragmented and will be completed in the coming days. For the second, on the other hand, there is no longer any mystery. The GeForce RTX 3050 has 2,560 CUDA cores and 8 GB of GDDR6. Its base frequency is 1.55 GHz and its Boost frequency is 1.78 GHz. The entry-level Ampere will go on sale on January 27 from 279 euros in France.
Of course, it didn't take long for NVIDIA's partners to show off their GeForce RTX 3050 models, a veritable armada that we'll be reviewing. In order to avoid any suspicion of favoritism, we adopt a fairly classic list organized in alphabetical order. Besides, let's risk a little fantasy, let's start at the end: let's start from Zotac and end up at ASUS.
In all cases, these cards require a single 8-pin connector. Video outputs consist of three DisplayPort 1.4a connections paired with a single HDMI 2.1 port.
Related:

Nvidia announces the RTX 3050 and RTX 3090 Ti: features of the company's new graphics
Two versions of Twin Edge at Zotac
At Zotac, things are simple: there are two GeForce RTX 3050 Twin Edge, one with standard frequencies, the other with a slightly increased Boost frequency, to precisely 1,807 MHz, which earned it the OC designation. .
The cooling system is IceStorm 2.0 which mobilizes two fans. These cards measure 224.1 x 116.3 x 39.2 mm and occupy two slots.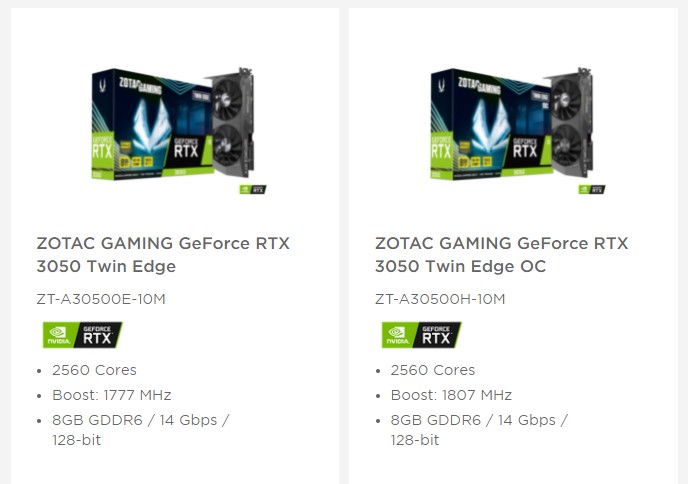 © Zotac
PNY: Uprising and Revel
PNY will offer three versions, not yet referenced on its site. These are the RTX 3050 Uprising and Revel. The Revel range offers two different configurations, with one or two fans, while the Uprising has only two fans. At this time, the exact specifications are not known.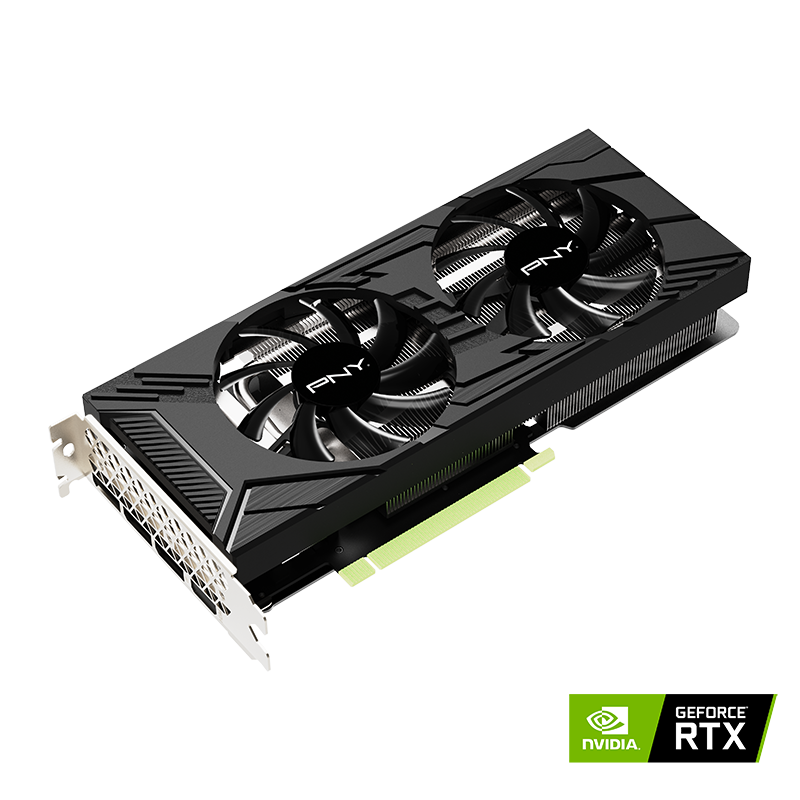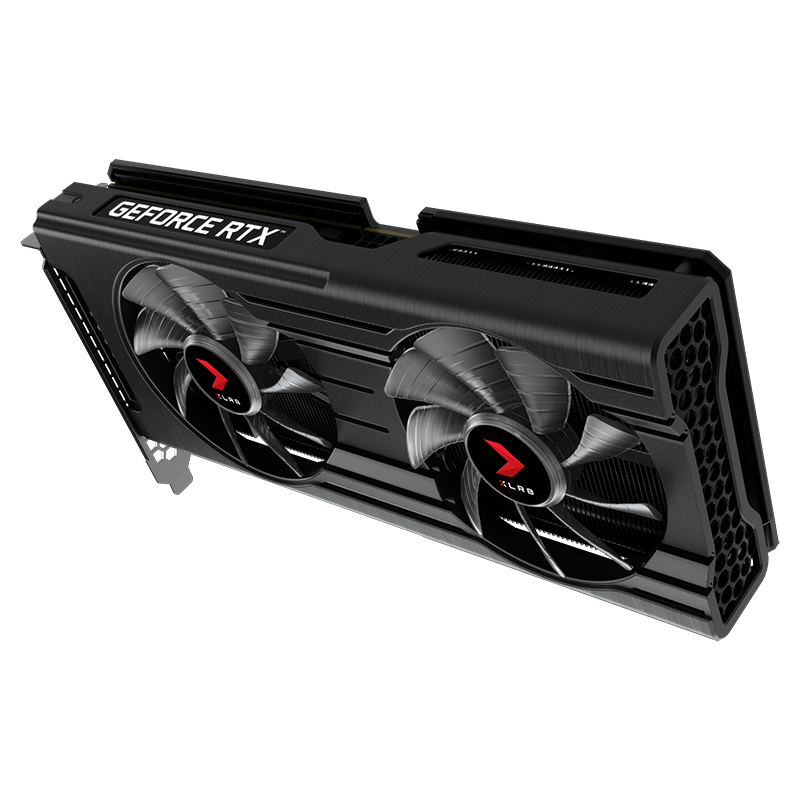 © PNY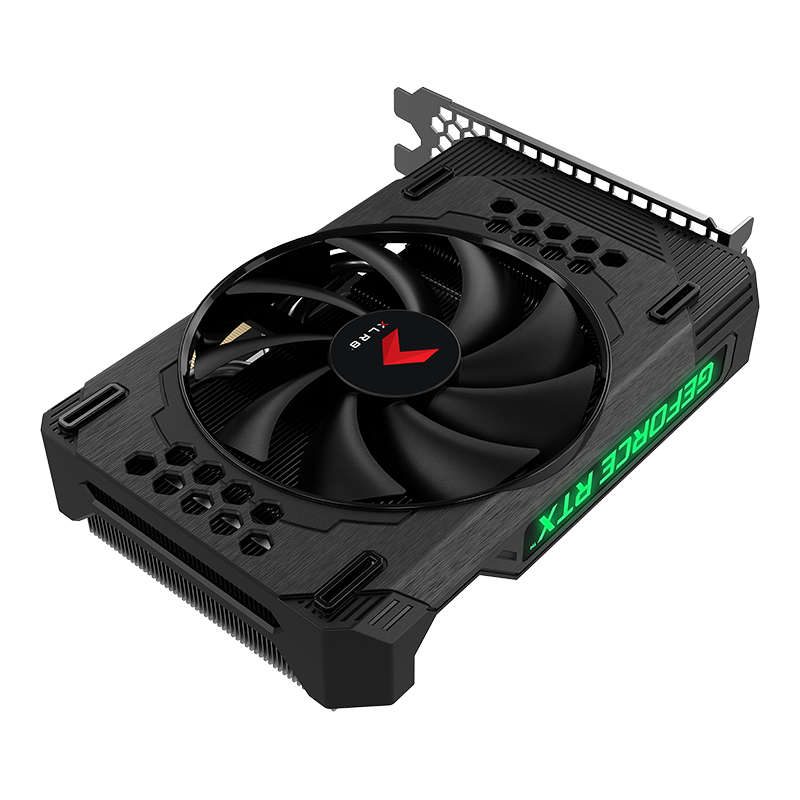 Four Palit references
It's a pair that gives birth to a quartet at Palit. The brand offers two GeForce RTX 3050 Dual and two StormX, each time with an OC stamped model (1,822 MHz for the Dual, 1,807 MHz for the StormX).
Related:

© Palit
The GeForce RTX 3050 StormX measures 170 x 125 x 40 mm, and the GeForce RTX 3050 Dual, 245 x 119 x 40 mm. All are on two slots.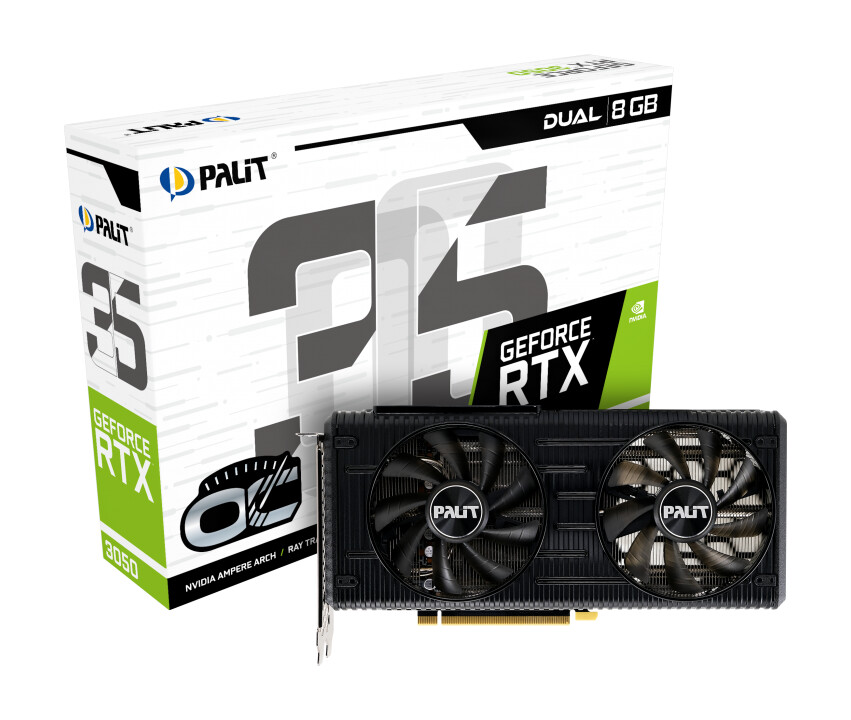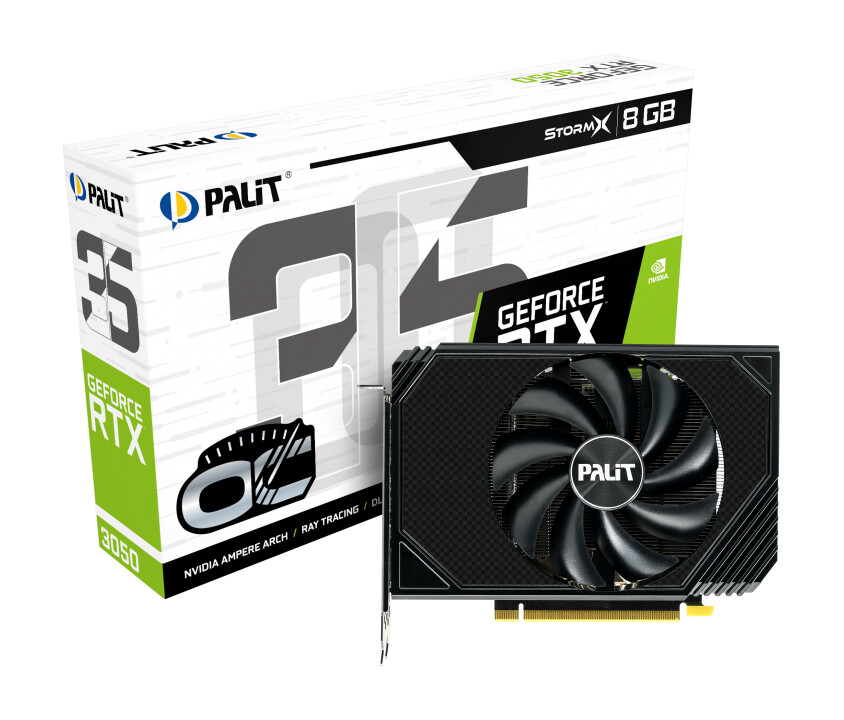 © Palit
Six GeForce RTX 3050 on the MSI side
MSI offers three GeForce RTX 3050 designs (Gaming, Ventus, and Aero), again with OC or X versions each time, resulting in six references in all. We will not dwell on the specifications of all these cards, since the company has done our work by recording them in the table below.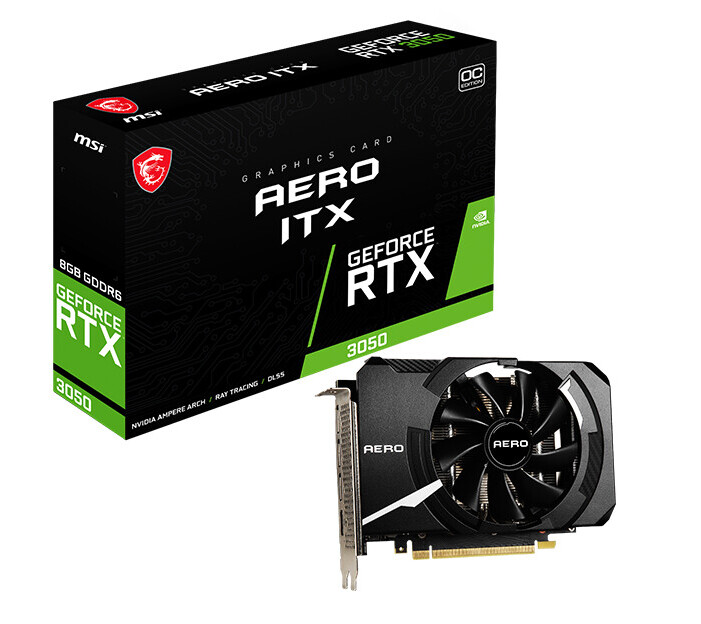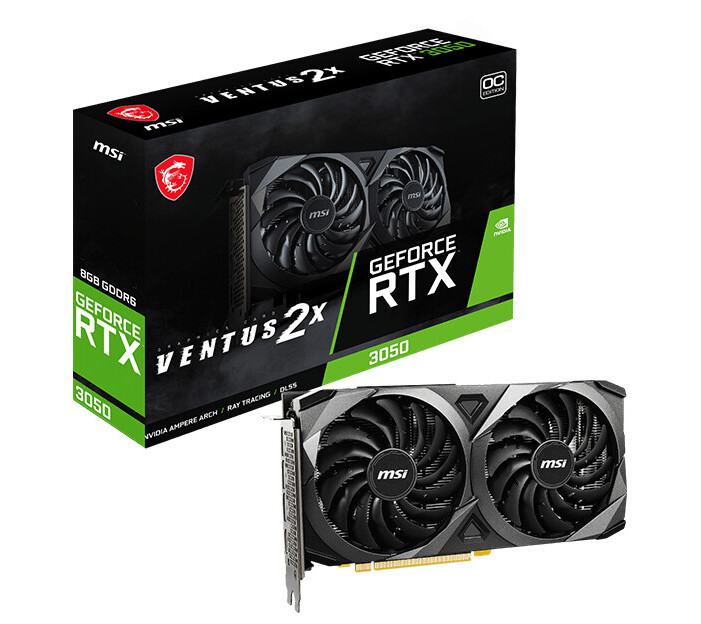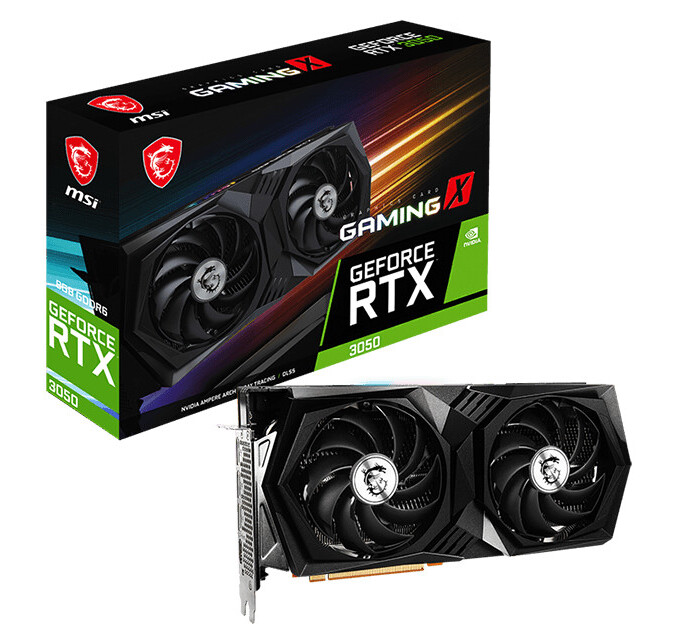 © MSI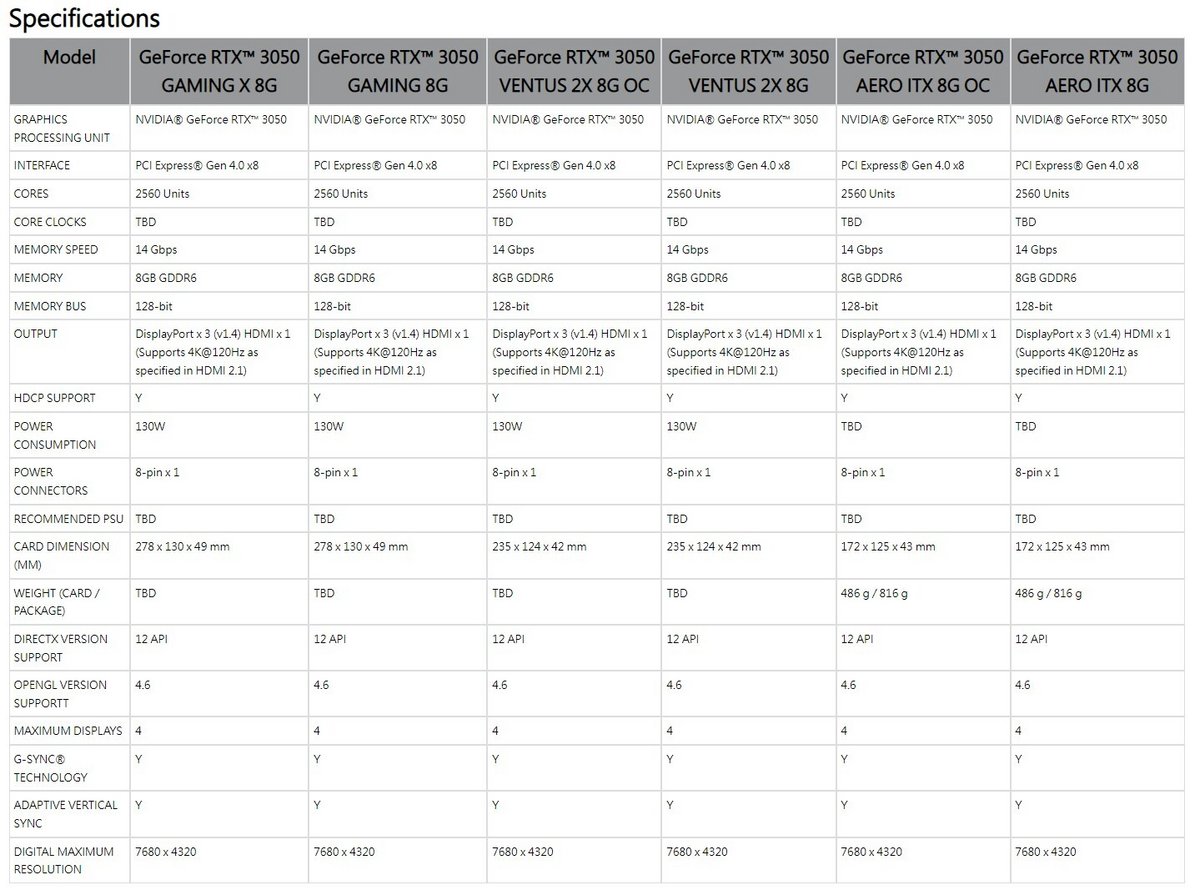 © MSI
A pair at Inno3D
Inno3D offers the GeForce RTX 3050 TWIN X2 and OC. Both are armed with a pair of 90mm fans. They are 240mm long and 120mm wide, and take two slots. The OC version displays a Boost frequency of 1792 MHz.
Related: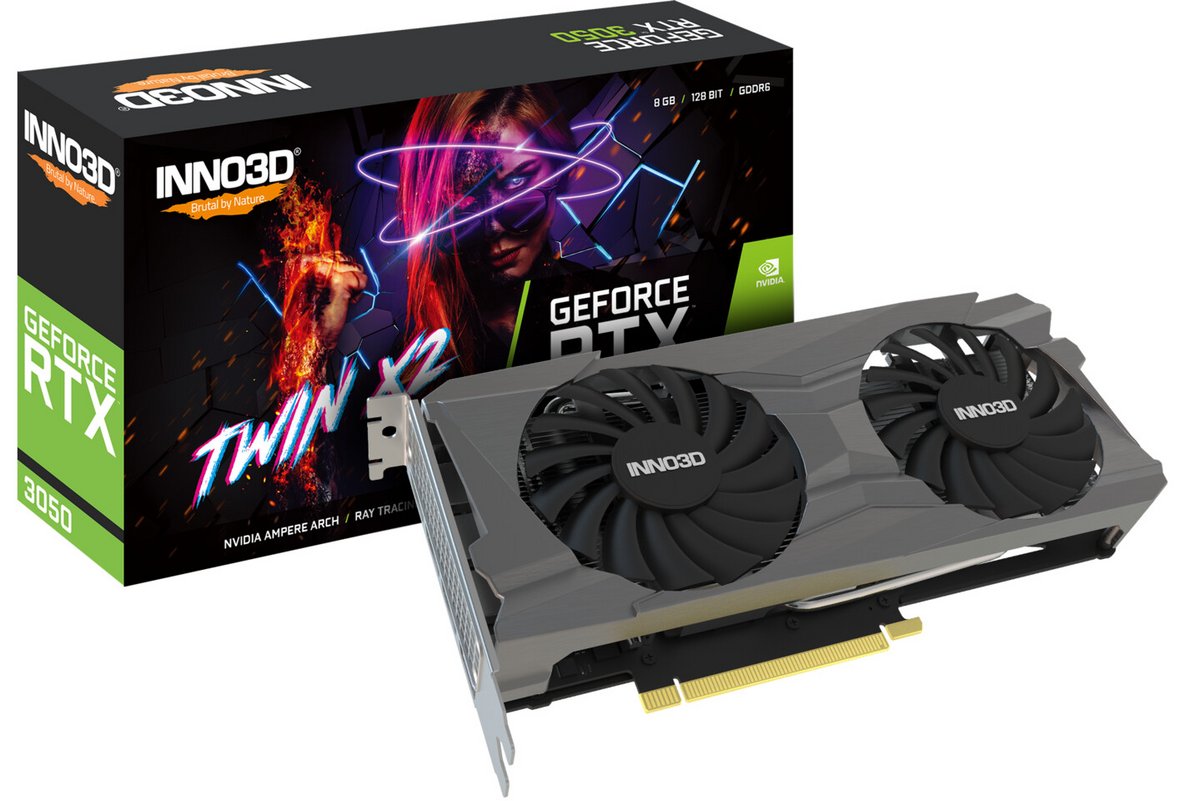 © Inno3D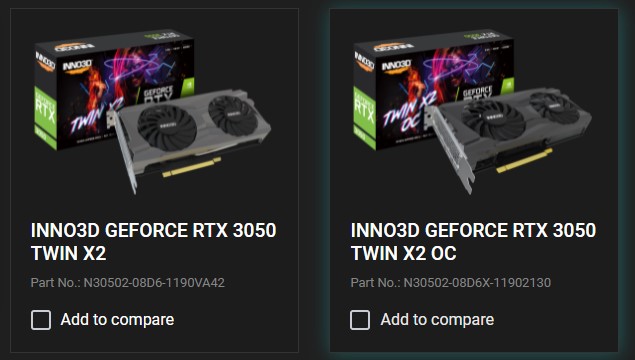 © Inno3D
Gigabyte: a Gaming OC and two Eagle
Gigabyte offers three GeForce RTX 3050s, including one of the few with three fans, the Gaming OC. This imposing card measures 282 x 117 x 41 mm and features a WINDFORCE 3X cooling system. This benchmark is overclocked, but Gigabyte has yet to populate the Boost frequency as of this writing.
The RTX 3050 Eagle, equipped with a pair of fans, is more compact than its big sister: 213 x 120 x 41 mm. Again, the Boost frequency of the OC model is not known.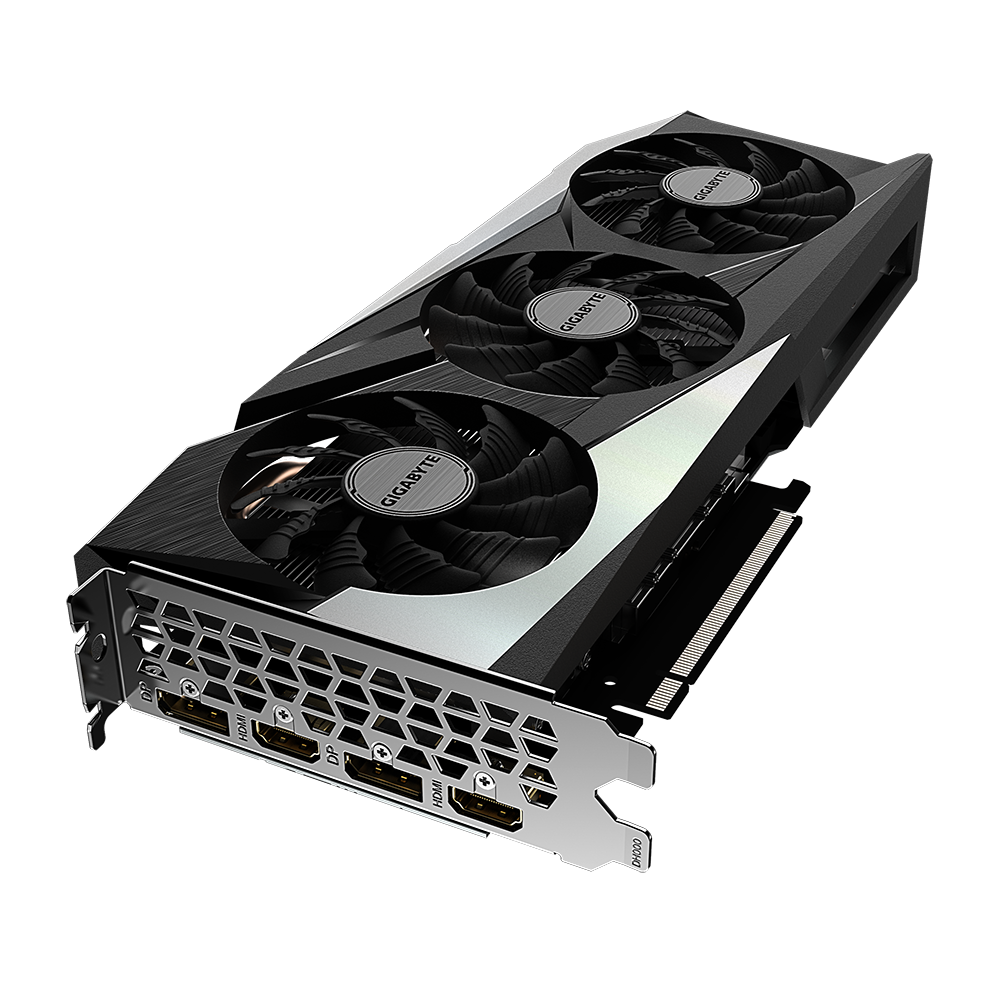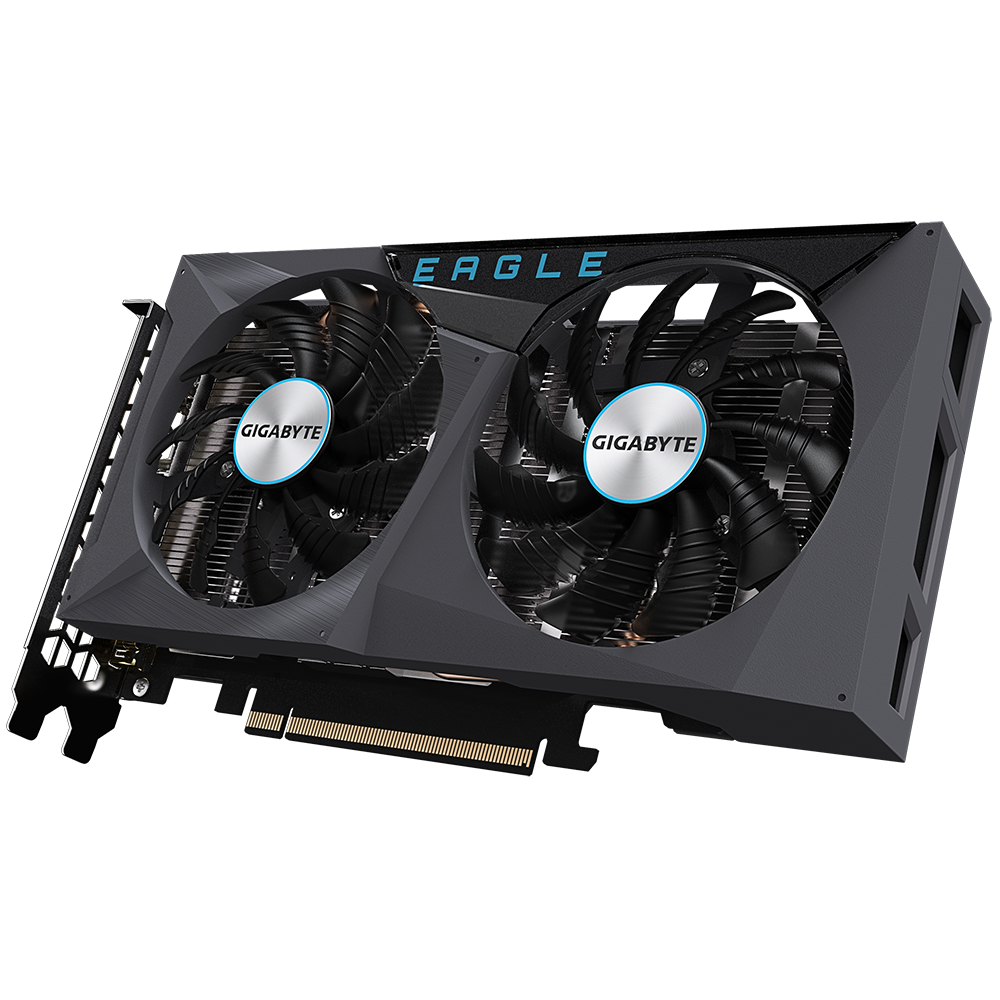 © Gigabyte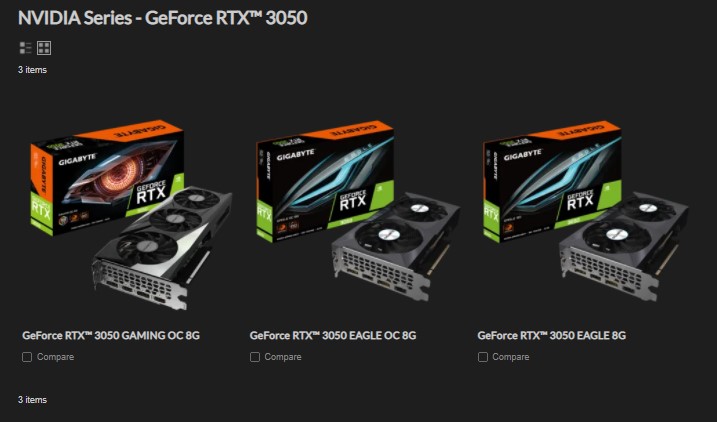 © Gigabyte
Gainward: RTX 3050 Pegasus and Ghost
Gainward is betting on four references, the Ghost and Ghost OC, and the Pegasus and Pegasus OC. The Ghost models inherit a pair of fans while the Pegasus are content with a single turbine. Here are the specifications and an overview video: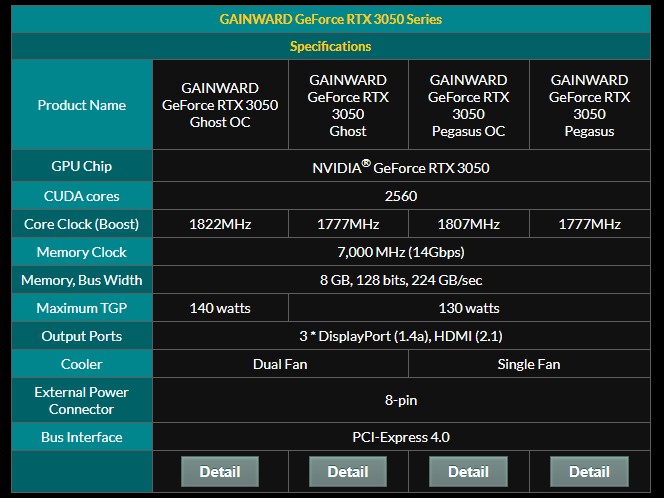 © Gainward

© Gainward
Evga: an XC series with two references
The choice is limited at Evga: the company will offer only two models, the GeForce RTX 3050 XC and XC Black. Very little data concerning them has appeared so far.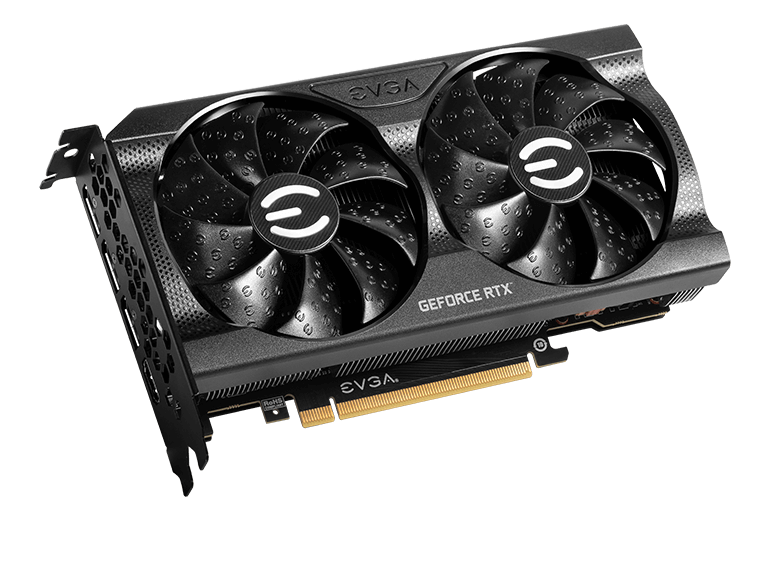 © Evga
Finally a little color, inevitably brought by Colorful
The landscape made up of all the GeForce RTX 3050s listed above is quite dull and monotonous: mostly gray and black, sometimes embellished with a little RGB. Fortunately, we can count on Colorful to brighten it all up by bringing some shine to our PCs.
The Chinese firm is the only one to offer color through its iGame GeForce RTX 3050 Ultra W OC and Ultra W DUO, equipped with three and two fans respectively. We also have an iGame GeForce RTX 3050 NB EX, albeit more moody.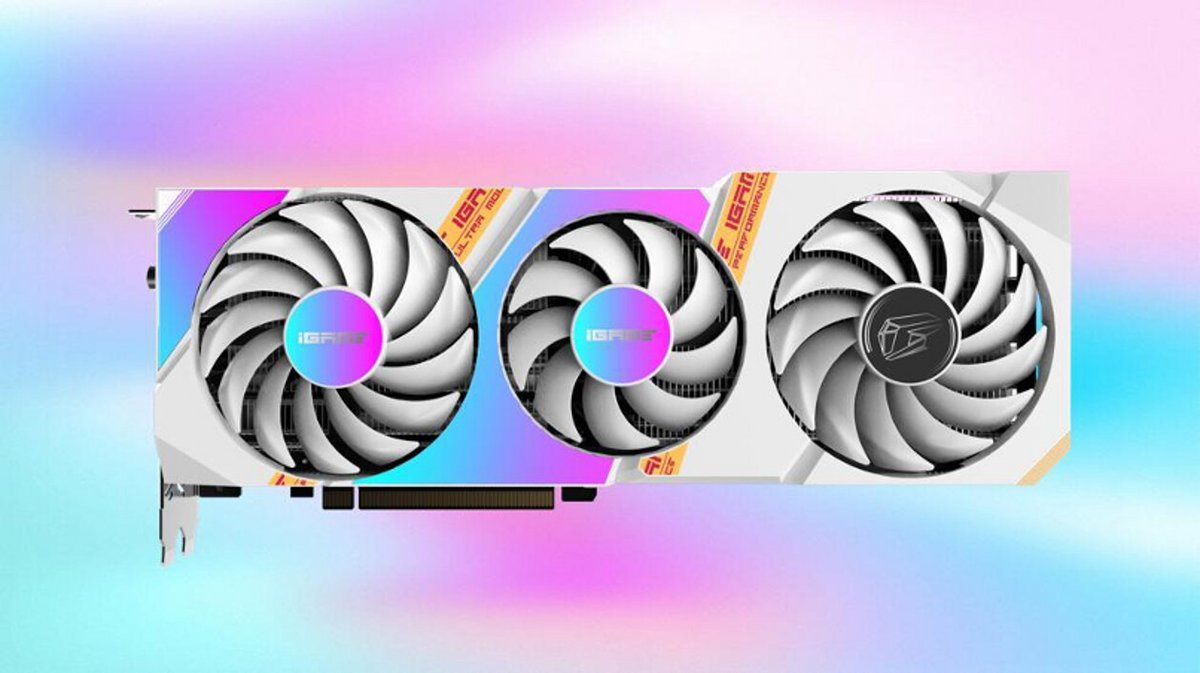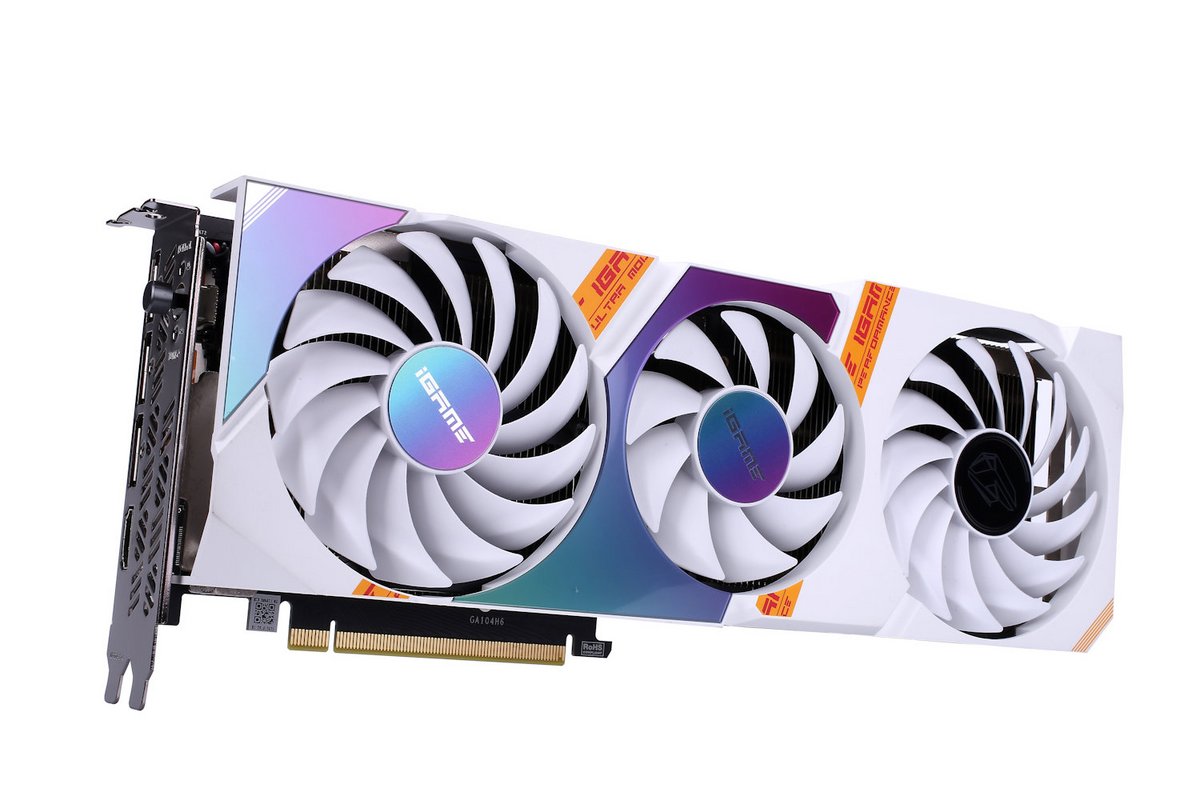 © Colorful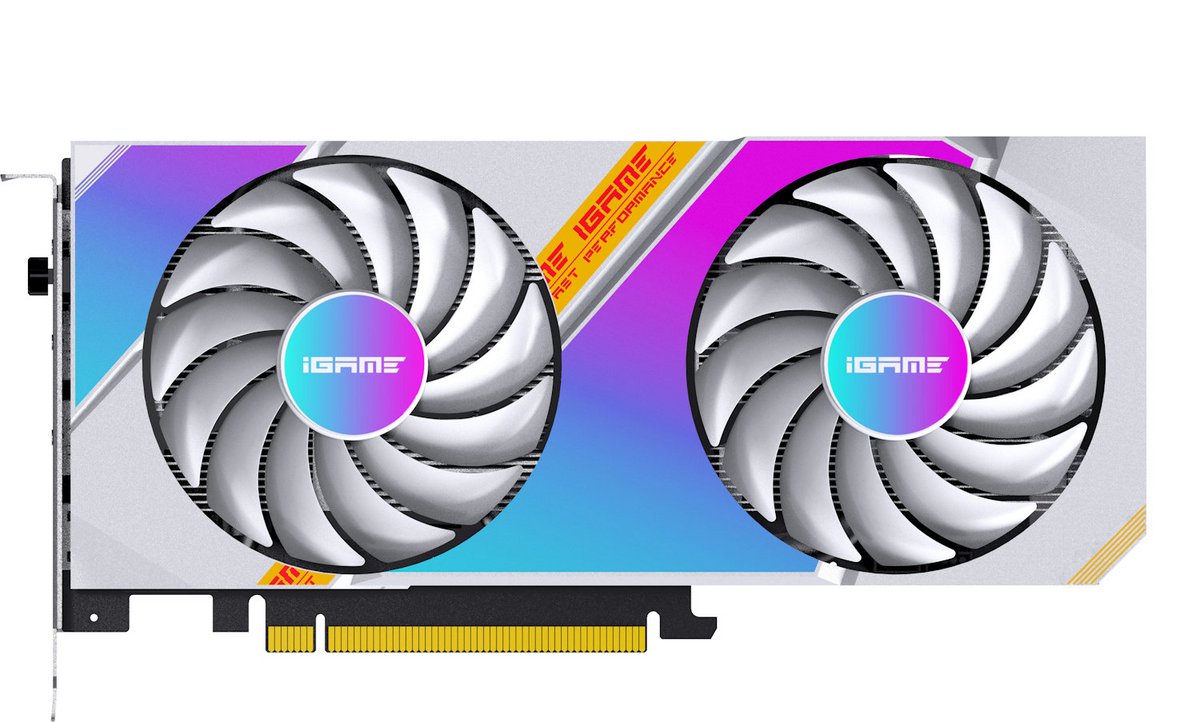 © Colorful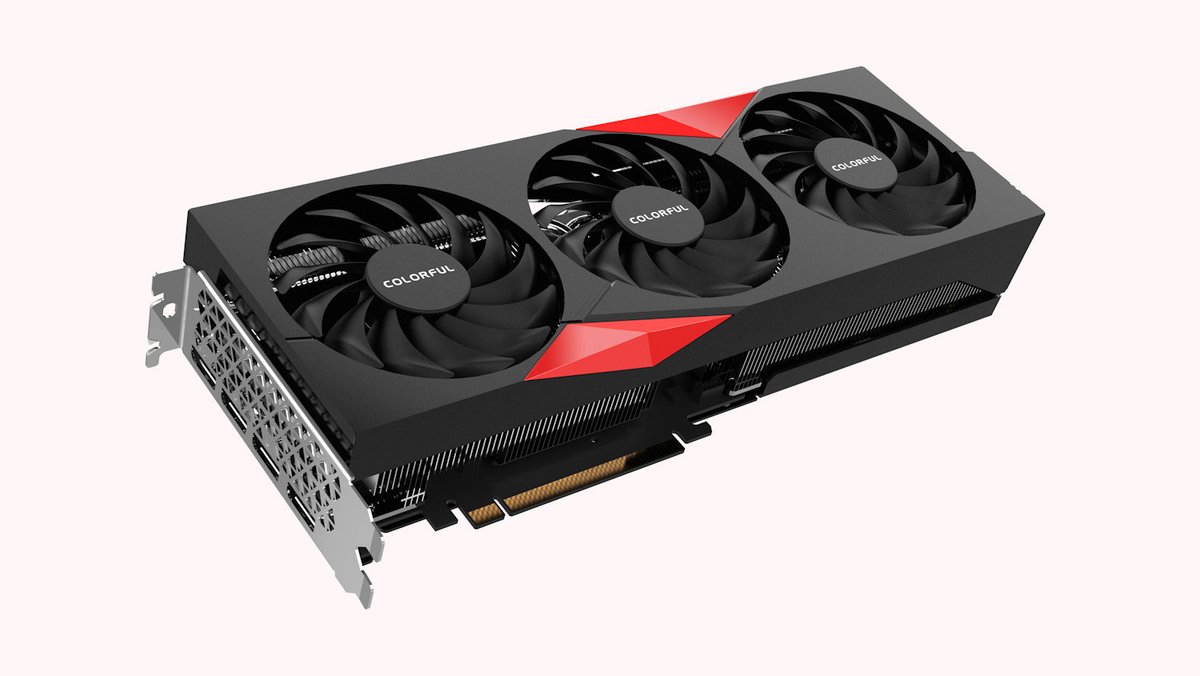 © Colorful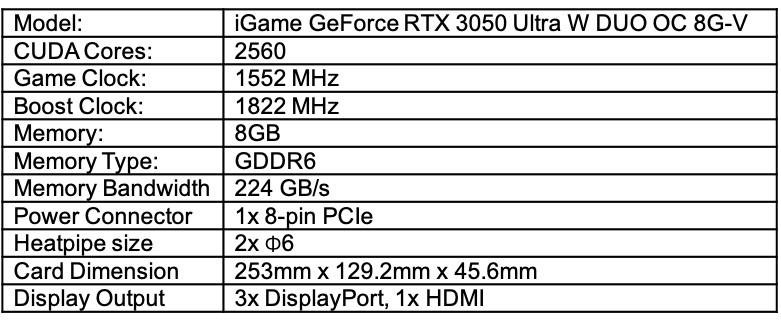 © Colorful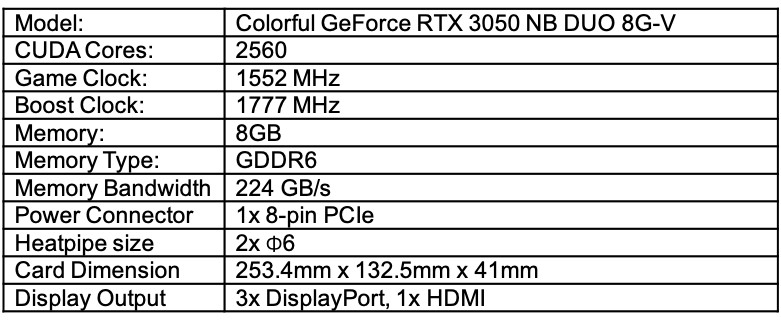 ASUS: Do you want a GeForce RTX 3050 with one, two or three fans?
Once is not customary, let's finish with ASUS. The company has developed three versions of GeForce RTX 3050. From the largest to the smallest: ROG Strix GeForce RTX 3050, Dual GeForce RTX 3050 and Phoenix GeForce RTX 3050. This offer will suit all formats, with three cards. , two or one fans. They don't appear on the brand's website yet, so we don't know their formats and frequencies.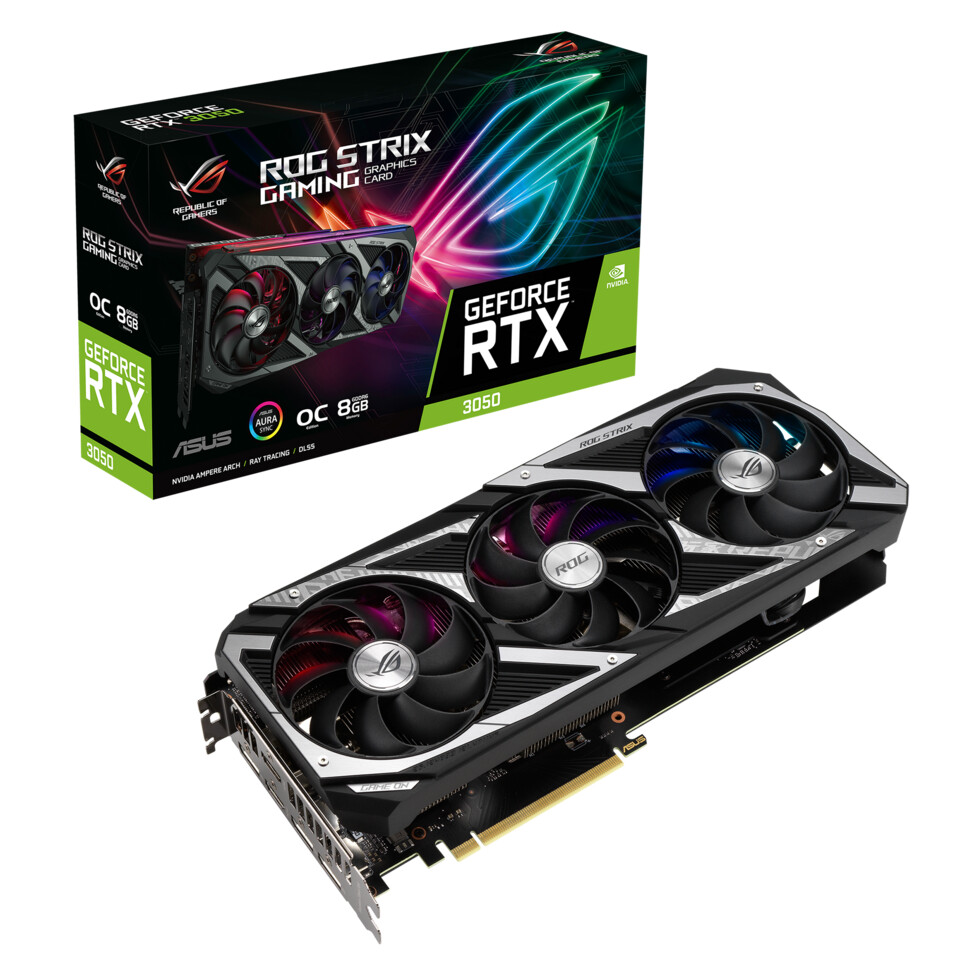 © ASUS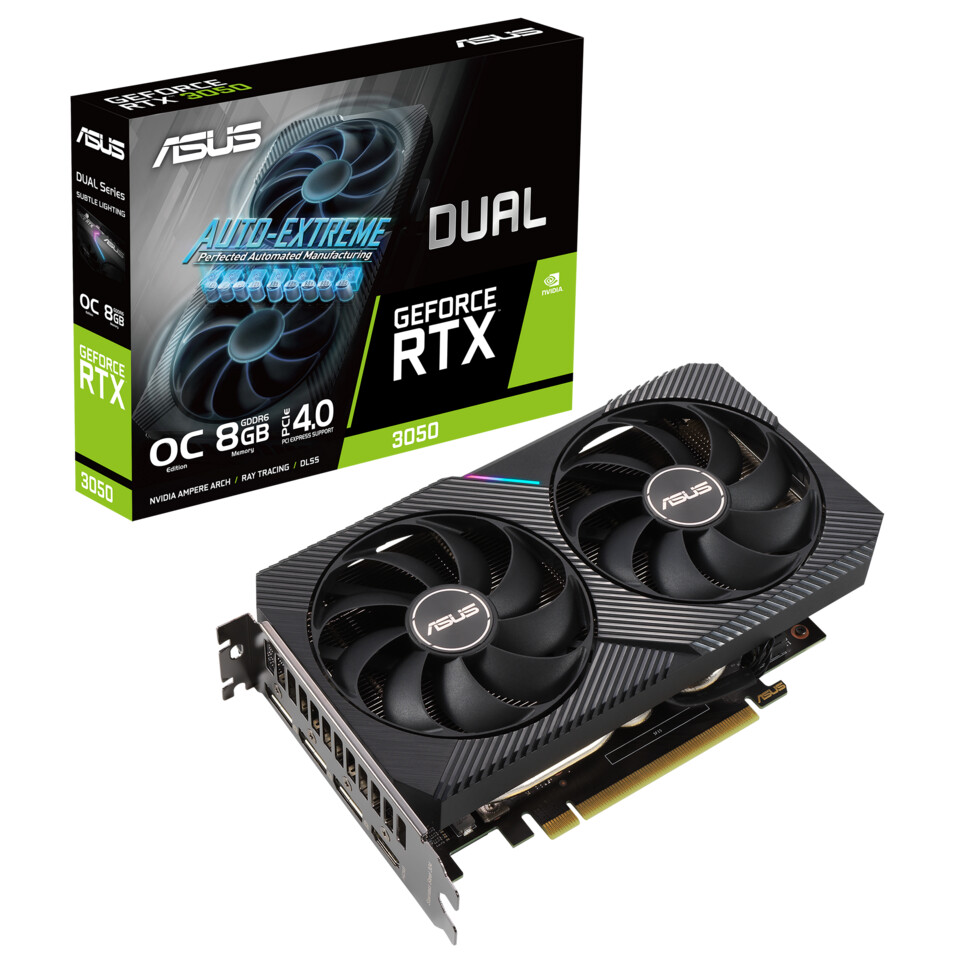 © ASUS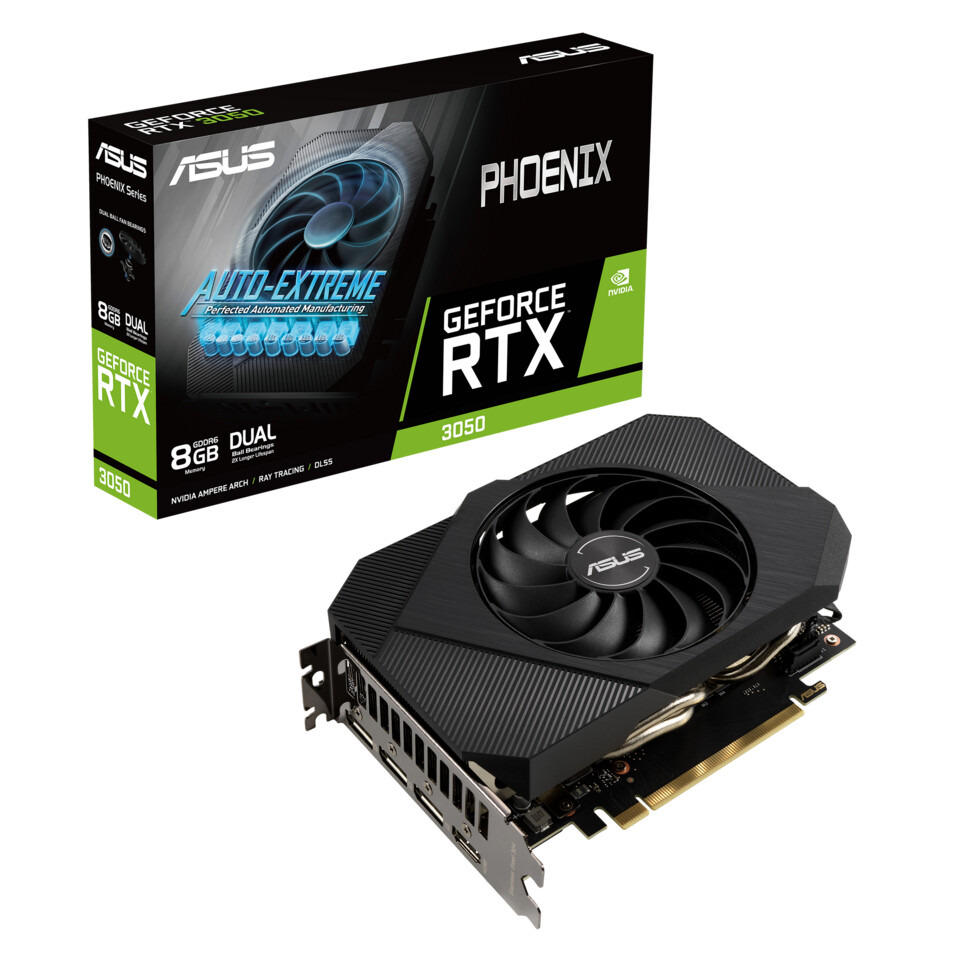 © ASUS