Even after announcing more than 50 new processors during CES in Las Vegas, Intel may surprise us.
After having first mentioned the Core H-Series range and the mobile processor " the fastest »Never produced (the Core i9-12900HK), Intel, therefore, took advantage of CES 2022 in Las Vegas to, in addition, lift the veil on the P-Series and U-Series ranges presenting a total of more than 50 processors during the show from Nevada.
Related:

CES 2022: Intel Introduces "Fastest" 12th Gen Core H-series Mobile Processors
Very close to the Core i5-12500
Obviously, the American founder still had some under his belt and our colleagues from Videocardz relay information that we did not expect: a Core i5-12490F whose essential feature is to be reserved for the Chinese market.
This is a model with 6 performance cores for a total of 12 threads. It is clocked at a frequency of 3 GHz and can climb up to 4.6 GHz in boost. Specifications strictly identical to those of the Core i5-12500, but it stands out on a few points.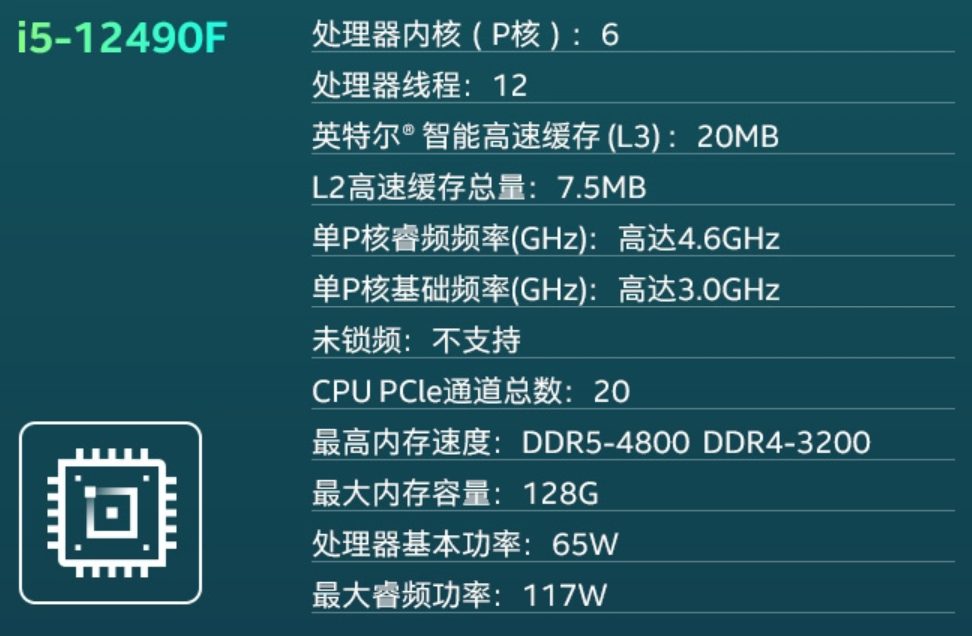 © Videocardz
Thus, belonging to the 'F' range, it does not include a graphics solution. It also has more level 3 cache (20 MB against 18 MB). Finally, it will be distributed without the new Intel cooling system. Nothing revolutionary then, but it is the approach that questions.
On a Chinese website, the Core i5-12490F is currently advertised at 1600 RMB, or about 252 USD. This is 100 RMB higher than the Core i5-12400, which costs 1500MB/236 USD. The CPU joins a list of 20 K-series and non-K-series SKUs announced yesterday, but it was left off of Intel's official list of specs, presumably because it will not be sold outside of China.
Related:
Source: Videocardz